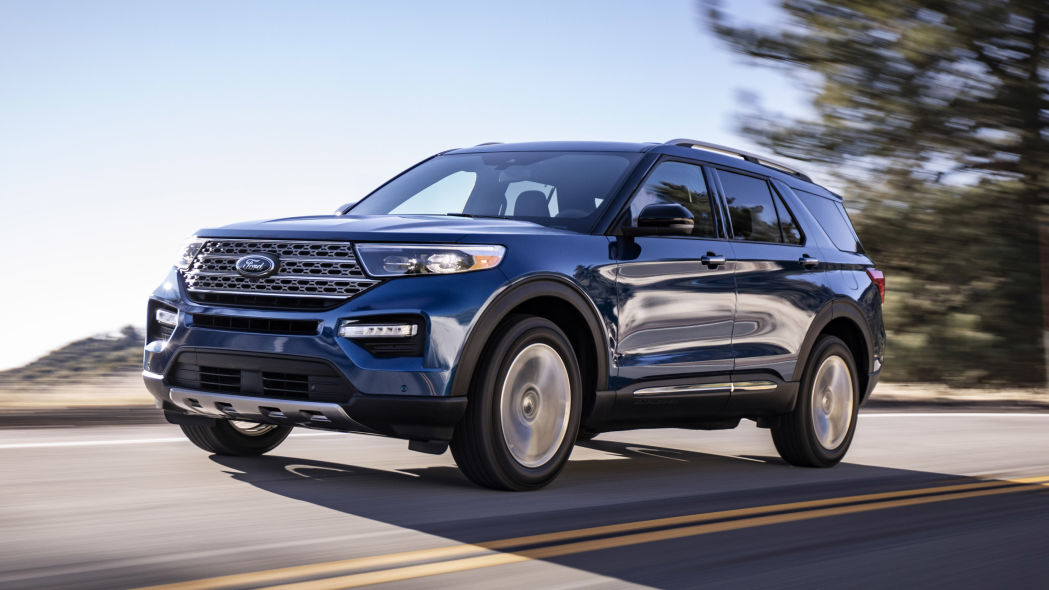 If you're in the market for a full-size SUV, Ford has a worthy offering in the 2020 Ford Explorer. First introduced in 1990 for the 1991 model year, the Explorer was the first four-door SUV that Ford manufactured. Since then, the Explorer has evolved through six generations of production, with the most recent generation unveiled this past January 2019.
As you're car shopping, you may be debating which model year is right for you, 2020 or 2019? Find out what's changed between the 2020 Ford Explorer and the 2019 Explorer when you shop with Bob Gillingham Ford.
2019 vs 2020 Ford Explorer: Powertrain
The 2019 Explorer comes with three engine options:

- 3.5L V6: 290 hp, 255 lb-ft of torque
- 2.3L EcoBoost: 280 hp, 310 lb-ft of torque
- 3.5L V6 EcoBoost: 365 hp, 350 lb-ft of torque
Each engine option offers considerable horsepower and torque, and the EcoBoost brings with it efficiency and improved gas mileage, important for an SUV.
For 2020, Ford has narrowed down engine options to two, boosting the power numbers from the previous year:

- 2.3L EcoBoost: 300 hp, 310 lb-ft of torque
- 3.0L V6 EcoBoost: 365 hp, 380 lb-ft of torque
Unlike the 2019 model, the 2020 version also comes standard with a brand new 10-speed automatic transmission, which helps increase both horsepower and torque, especially useful for hauling.
Maximum Towing Capacity With

3.0L V6 EcoBoost
Speaking of hauling, if you find yourself hauling your boat, snowmobiles or ATVs on the weekends, towing capacity is an important consideration for your SUV. The new 3.0L V6 EcoBoost offers a max towing capacity of 5,600 pounds. This same engine in 2019 maxed out at only 5,000 pounds. This means the new 2020 model has a 600-pound advantage over the 2019 model. Keep in mind, however, that the 2.3L EcoBoost is the new standard engine for the Explorer, so if you want to upgrade to the 3.0L, you'll have to pay a bit more.
Featuring Futuristic Entertainment Options
The 2019 Explorer featured an 8-inch touchscreen interface on the dashboard to control the radio, access navigation and manage other applications, while the 2020 Explorer improves on this by offering an optional 10.1-inch touchscreen. This tablet-esque display helps the interior cabin of the 2020 Explorer feel upscale and futuristic and provides a more user-friendly tech experience.
Third-Row Seating With a One-Touch Feature
In 2016, the Explorer was released with a brand new third row, a great feature for big families. For 2020, Ford has introduced a one-touch feature that lets passengers access the third row with a simple push of a button, a smart convenience that will have Moms and Dads wondering how they ever lived without it.
2020 SUV With Roomy Interior
The 2020 Explorer's interior is roomier than the previous model year, as it boasts a best-in-class 87 cubic feet of cargo space behind the first row. The 2019 Explorer topped out at 82 cubic feet of space in this same area. This makes third-row seating practical (and comfortable) for leggy teens and even adults, who are likely to greatly appreciate the additional leg and headroom.
Whether you're interested in a 2019 or the enhanced 2020 Ford Explorer, let our Cleveland area Ford dealer guide you in your decision. We're located on 8383 Brookpark Road in Parma, Ohio — stop by our location and take a brand new Ford Explorer for a test drive to see what it has to offer.