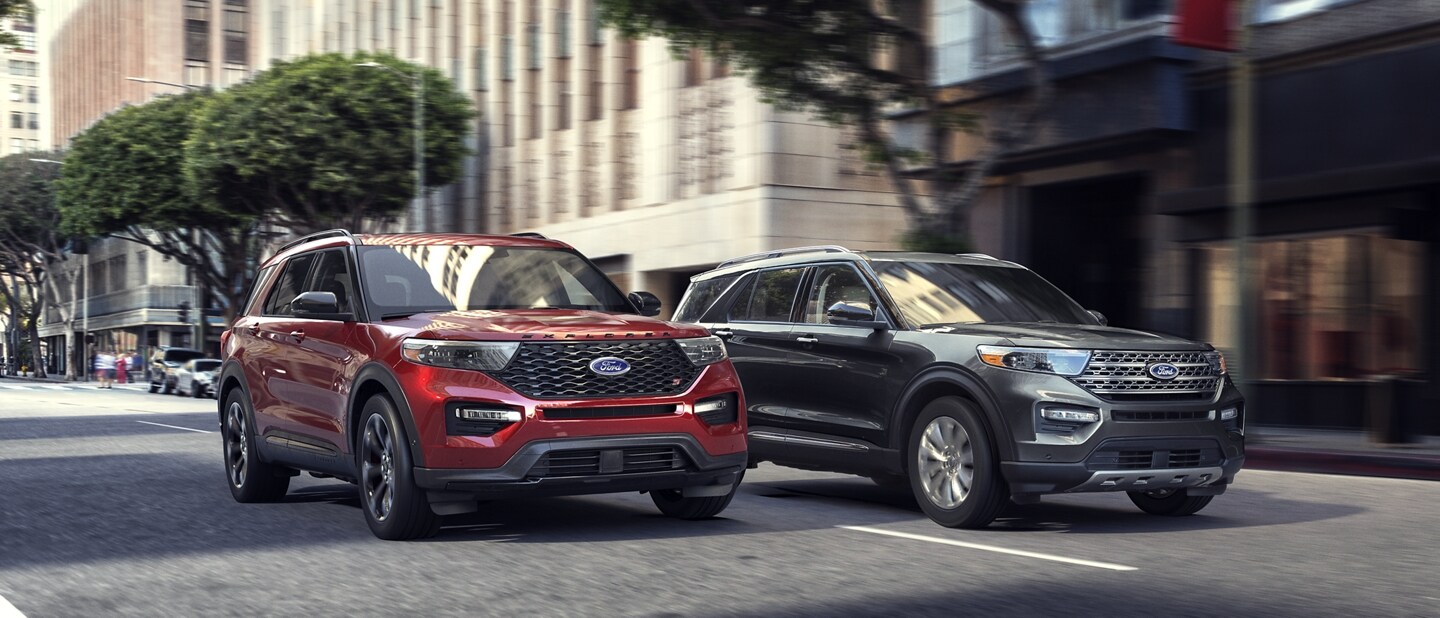 For the first time ever, the Korean automaker Kia is attempting to directly compete with one of Ford's largest SUVs, the 2020 Explorer. The 2020 Kia Telluride and the 2020 Ford Explorer are both three-row SUVs marketed to large families who need plenty of room to transport kids and other belongings. Below, discover the differences between these large SUVs, and find out which one might be right for you.
The Ford Explorer: Reinvented
For 2020, the Explorer has undergone a renovation of its own. Around 8-10 years ago, the automobile market began to embrace carlike SUVs with unit-body constructions, front-wheel drive powertrains and traverse engines. When the third generation of the Explorer arrived in 2011, it had adopted this configuration. However, the 2020 Explorer has now switched back to a longitudinal engine with rear-wheel drive as standard. This change grows the wheelbase by six inches and helps provide plenty of room in the interior.
Since the Kia Telluride is a brand-new model, there's nothing to compare it to in the past, but it does have a front-wheel drivetrain.
Powertrains and Fuel Economy
The 2020 Explorer boasts a turbocharged inline four-cylinder engine as its standard offering. This 2.3L engine puts out an impressive 300 horsepower and accelerates from 0-60mph in just 6.2 seconds.
Customers interested in even more power out of their engine may consider the Explorer ST, which generates 400 horsepower and 415 lb-ft of torque thanks to its twin turbos on the 3.0L EcoBoost.
The Telluride's engine is a much larger 3.8L V6 that produces 291 horsepower. But with a larger engine comes more fuel consumption, which is an important consideration for a family shopping for a new SUV.
Car and Driver recently tested the fuel economy of these two SUVs head to head, and the Ford averaged 21mpg over 700 miles of mixed driving to the Telluride's 20mpg. On the highway, the results are even better: When traveling 75mph, the Ford Explorer produced 28mpg versus the Kia's 24mpg.
The EPA ratings for fuel economy on both vehicles are listed below in the order of combined/city/highway:

- Kia Telluride: 21/19/24 mpg
- Ford Explorer: 23/20/27 mpg
As far as transmission, the Ford's engine is paired with a 10-speed automatic, while the Kia offers only an 8-speed transmission.
Hybrid Options That Save More on Fuel
For customers interested in saving even more on fuel, consider the Hybrid Ford Explorer. It adds a 35kW modular electric motor system hooked up to a 3.3L V6 engine. In order for it to maintain the same off-road ability as other Explorer models and handle towing capability of up to 5,000 pounds, Ford engineers stow the 1.5kWh lithium-ion battery pack, which is liquid-cooled, underneath the second row seat to better help distribute its overall weight.
The Kia Telluride does not offer a hybrid version and instead offers trim levels of LX, S, EX and SX.
Experience SYNC 3 Technology
Ford knows how important it is for families to keep smartphones, tablets and other portable electronic devices charged, and the Explorer delivers here with an array of USB ports that span across all three rows of seats. They're all placed within easy reach of passengers, so everyone can have enough space to charge what they need to.
The 2020 Explorer features the well-known SYNC 3 infotainment system, which prioritizes user-friendliness when drivers and front passengers access it. Use it to control navigation, make music selections and even integrate your smartphone with it via Apple CarPlay or Android Auto, depending on your smartphone type. The Explorer comes standard with an 8-inch touchscreen that's clear and colorful, and upgrades are available for drivers who want a bit more real estate in a 10.1-inch touchscreen, available on the ST and Platinum trims.
In the Telluride, customers can enjoy Kia's high-tech UVO interface. An 8-inch touchscreen is standard, but upgrades are available on the EX and SX grades, which feature a 10.3-inch touchscreen. There's also an available 10-speaker Harmon Kardon audio system, but interested music enthusiasts will have to pay extra for the better sound quality.
Today's SUV Now Comes With Driver Assistance
Both the Telluride and the Explorer come with a suite of driver assistance features to keep riders safe. Ford's CoPilot 360, for example, includes:

- Pre-Collision Assist with Automatic Emergency Braking
- Blind Spot Information System
- Lane-Keeping System
Even more safety features are available in the upgraded Co-Pilot360 Assist+ version.
The 2020 Telluride also has driver assistance safety features through the Kia Drive Wise system, but its offerings are not tiered nor as comprehensive as the Ford's.
Cargo Space and Interior Features
Families interested in a third row SUV want to make sure it's easy for kids to climb in and out. Standard on the 2020 Explorer is the EZ-Entry (with an available power assist fold), making it easier for passengers to get in and out of the third row using only one hand.
When you're traveling alone and headed to the hardware store, both rows of seats can fold flat into the floor, resulting in 87 cubic feet of cargo space and letting you transport standard 4-feet wide building materials, such as plywood.
The 2020 Explorer also has plenty of space throughout the cabin for passengers to stow belongings and other personal items.
By comparison, Kia's offering is equally generous with cargo space, coming in at a total capacity of 87.8 cubic feet.
Take the Explorer Out for a Test Drive
While Kia has come a long way with their new SUV, the poor fuel economy combined with sluggish acceleration and less than stellar responsiveness will make it a distant second choice for most buyers in the market for a full-size SUV.
Don't take our word for it though. Take a test drive and see for yourself! Stop by our Parma car dealership to get behind the wheel of a new 2020 Ford Explorer SUV and find out why it's such a great choice for your next vehicle. Give us a call at 216-398-1300 for more information or to schedule an appointment with a member of our sales team.