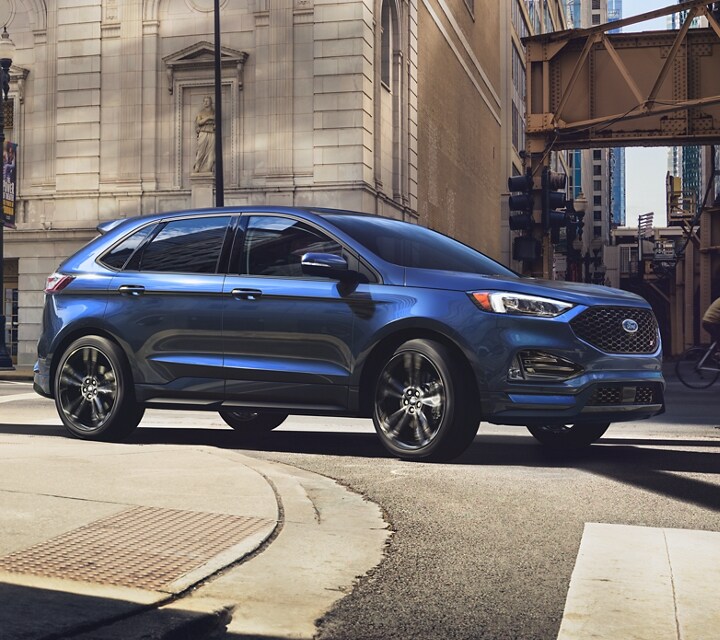 When you're shopping for a new or used vehicle, some of your criteria likely has to do with safety. After all, you want to make sure the structure and features of the car, truck or SUV you're interested in are capable of keeping you and your family safe.
Ford offers some of the most advanced safety technology available on the market today. Here are five car safety features to look for as you browse our new Ford inventory and Ford pre-owned inventory at our dealership in Parma, Ohio.
1. Adaptive Cruise Control
Adaptive cruise control systems utilize sensors and radar systems to help you maintain a safe distance between you and the car in front of you. They automatically adjust your speed, either slowing down if traffic is ahead or speeding up if the road is open, which is especially helpful for highway cruises.
How Ford Uses It
Adaptive Cruise Control With Stop-and-Go is available on all Ford vehicles. It can bring your vehicle to a complete stop in traffic and resume your speed as traffic begins to move.
2. Automatic Emergency Braking
A vehicle outfitted with an automatic emergency braking system applies the brakes if it senses a collision is imminent. Data from the Insurance Institute of Highway Safety shows that rear-end collisions decrease by 50% on vehicles equipped with this car safety feature.
How Ford Uses It
Pre-Collision Assist with Automatic Emergency Braking comes standard on all Ford vehicles beginning in 2020. It's part of the Ford Co-Pilot360™ technology that's designed to keep you safe no matter where you travel.
3. Lane-Keeping System
There are two main types of lane-keeping systems. One alerts you if you're starting to veer out of your lane, and the other controls your steering and may also alert you at the same time. Both car safety features are designed to keep your vehicle within painted lines.
How Ford Uses It
Ford's lane-keeping system is part of the Co-Pilot360™ technology that comes standard on all 2020 and up Ford vehicles. It alerts you when you're starting to depart from your lane, but it doesn't control your steering.
4. Rear-View Camera
Cameras with wide-angle lenses mounted on the rear of vehicles give the driver a view of what's behind them and can help in certain situations, such as reversing out of a driveway or backing into a parking space. It can also prevent children and pets from being run over by a vehicle that's backing up.
How Ford Uses It
Ford now equips all of its vehicles with rear-view cameras beginning in model year 2020. These are also part of the Co-Pilot360™ system. As long as you keep them free of snow and dust, you can feel confident about navigating in reverse.
5. Blind Spot Detection
Blind spot detection picks up what you might miss in your blind spots as you drive, typically by shining orange or yellow lights in your direction. Some also may use audible alerts.
How Ford Uses It
Ford's BLIS® with Cross-Traffic Alert uses radar to identify if a vehicle's in your blind spot and gets your attention using an indicator light on one of your exterior mirrors. Cross-traffic alert works similarly by alerting you visually and audibly if something is behind your vehicle as you're reversing.
Stop by our Cleveland area Ford dealer to take a vehicle you're interested in for a test drive and explore all the advanced car safety features each SUV, crossover or truck has to offer.