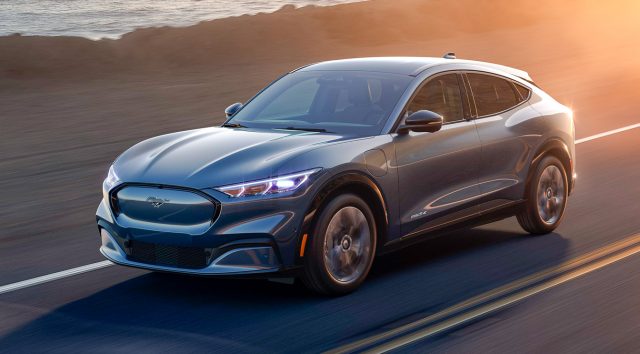 Ford's brand new Mach-E SUV was first revealed in mid-November, just ahead of the 2019 LA Auto Show, which ran from Nov. 22 – Dec. 1. Inspired by the automaker's iconic Mustang car, the Mach-E aims to be a stylish, powerful and spacious all-electric SUV, all at a price that won't put you in a mountain of debt.
The electric vehicle market is a growing one — it was valued at over $118 million in 2017 and is projected to grow to $567 million by 2025. Until now, Ford has offered a number of plug-in and hybrid vehicles, including the Fusion plug-in hybrid and the Explorer. But the Mach-E is something special — it's Ford's first all-electric vehicle.
Mustang Mach-E Features
Ford is keeping the details on features hush-hush, as the company is still hashing out standard equipment and available packages. If you've got your mind set on parking a Mach-E in your garage, you'll have to sit tight until late 2020. But until then, you can build and plan out your dream electric Mustang vehicle at Ford.com.
Here's what Ford has revealed about the Mach-E:

- 18-inch wheels
- Phone-as-key technology
- LED lights
- Updated Ford Co-Pilot 360 and Sync technology
- Up to 300-mile range on one charge
Outstanding Range for an Electric Vehicle
One of the biggest considerations when shopping for an electric vehicle is range: How far can you drive before you have to charge the batteries?
Ford is estimating the Mustang Mach-E's range to be as high as 300 miles with the RWD configuration on certain trim levels. Furthermore, if you opt for the GT trim with certain options, you can enjoy 0-60 acceleration thrills in about 3 seconds with zero emissions.
The Drivetrain
While the Mach-E is likely to come standard as RWD, Ford has announced that all-wheel drive (AWD) will be available. This system is capable of delivering exceptional handling, especially when you're navigating the snowy and icy streets of Parma, Ohio, during the winter.
In this system, front and rear motors distribute power to individual wheels, which can provide more stability on roads with less traction.
Mach-E: Interior Space
Ford has indicated that the Mustang Mach-E won't be short on legroom, saying that the interior is designed to be extra-spacious, so the days of passengers cramming themselves into the backseat of a traditional Mustang are over.
Mach-E's Front Trunk Space
One innovative feature unique to the Ford Mach-E is the front trunk space, reminiscent of the Tesla or even performance cars such as the Porsche 914. Whether you call it a frunk or a front trunk, it's one of the coolest features on this vehicle.
Thanks to its lack of carpeting and the drain plug at the bottom, you can feel free to toss some messy stuff in there. Heck, if you love going to sporting events like Browns games, you can even fill it with ice and have an instant tailgating party.
The entire trunk is water-resistant, is insulated with foam and can even be hosed out when it gets dirty. This makes it the perfect trunk for camping, tailgating and toting muddy belongings.
Trim Levels and Options
Select
The select trim for the Mach-E is a good starting point, and it's the least expensive model in Ford's lineup. Again, Ford is still being light on the details, but the automaker says it will come standard with Co-Pilot 360 2.0 and Co-Pilot 360 Assist 2.0. The base MSRP for this is $43,895, but since the Mach-E qualifies for the Maximum $7,500 Federal Electric Drive Motor Vehicle Tax Credit, you could pay as little as $36,395 for this base model.
Premium
Ford is still not revealing much about standard equipment on the Premium Mach-E, but it will feature "an array of premium technology, luxury and performance." The MSRP for this model will start at $50,600 before the tax credit.
California Route 1
Named after its unique engineering that encourages leisurely cruising, this rear-wheel-drive model comes with an extended-range battery. The targeted range is 300 miles. It'll cost a bit more than the Premium trim at $52,400 MSRP.
GT
Ford isn't saying much about this trim level either, but it's bound to be performance-oriented with plenty of torque, just like its namesake, the traditional Mustang GT. The estimated MSRP for the Mach-E GT is $60,500 before the federal tax credit.
First Edition
This limited edition Mach-E has an estimated MSRP of $59,900, or as low as $52,400 after the tax credit. It features three exterior colors, interior contrast stitching, Mach-E First Edition scuff plates, red brake calipers and aluminum pedals.
Potential Cost Savings
Electric vehicle owners can potentially save a lot of money versus traditional gas vehicles, since they're not spending at the pump. Instead, you can invest in an at-home charging system or take advantage of charging stations in your area and potentially save thousands of dollars in the long run, particularly within the first five years of ownership.
There are potential upfront savings too, especially when you take advantage of the available $7,500 federal tax credit offered to electric vehicle owners.
Reserve Your Mustang Mach-E at Bob Gillingham Ford
At our Northeast Ohio car dealership, we take pride in helping our customers find the right vehicles for their lifestyle and budget. If you're as excited as we are about the Mustang Mach-E's potential, stay tuned for updates and news on when we'll start getting these vehicles in our Ford new car inventory.
And for any other car or SUV you may be interested in, stop by our dealership at 8383 Brookpark Road in Parma, Ohio, and take one of our cars or SUVs for a test drive.