It's safe to say that Ford knows a thing or two about building hardworking pickups. The new 2022 Ford F-150 is proof of this; its innovations and capabilities come as the result of decades of research and development done by Ford in their quest to build some of the best full-size trucks for sale in Ohio. To showcase the standard-setting superiority that distinguishes the Blue Oval from the pack, our Ford dealership near Cleveland has arranged a full-size truck comparison starring the 2022 Ford F-150 vs. 2022 Chevrolet Silverado 1500, Ram 1500 and Toyota Tundra. Though all these are competitive vehicles in their own right, only the F-150 delivers the all-around excellence that's expected by anyone looking to buy a new truck nearby.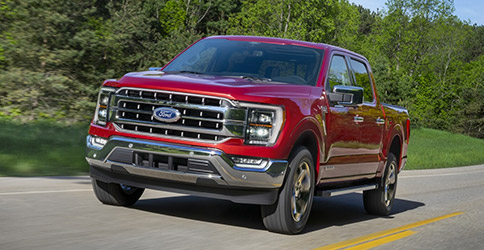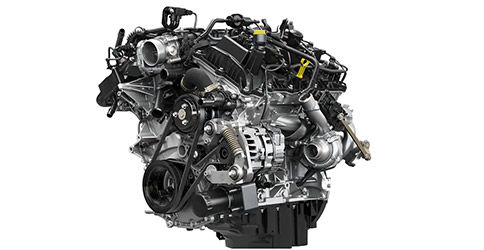 Ford F-150 Engine Options Compared
The 2022 Ford F-150 engine options cater to just about every type of buyer. These engines range from a base V6 putting out 290 horsepower to the mighty 3.5-liter PowerBoost™ Full Hybrid V6 engine that generates 430 horsepower and 570 pound-feet of torque. Only the Toyota Tundra offers a comparable hybrid option, which is one of only two engine choices for that truck. The F-150, meanwhile? You can choose from among six different engines. No competing truck offers as many powertrain options as the new F-150.
| Features | 2022 Ford F-150 | 2022 Chevy Silverado | 2022 Ram 1500 | 2022 Toyota Tundra |
| --- | --- | --- | --- | --- |
| Engine Options | 6 | 4 | 4 | 2 |
| Hybrid Availability | Yes | No | No | Yes |
F-150 Towing Capacity & Payload Compared
The 2022 F-150 carries an enviable distinction: a best-in-class towing capacity of 14,000 pounds. This remains the case despite Chevrolet revising the Silverado for 2022 and an all-new Tundra also debuting this year. What's that tell us? That there's nothing currently on the market that can dethrone the F-150 when it comes to towing supremacy. It's a similar story regarding the max F-150 payload rating of 3,325 pounds, another segment-leading benchmark. Clearly, nothing can tow or haul like a 2022 F-150.
| Features | 2022 Ford F-150 | 2022 Chevy Silverado | 2022 Ram 1500 | 2022 Toyota Tundra |
| --- | --- | --- | --- | --- |
| Max Towing Capacity (lbs) | 14,000 | 13,300 | 12,750 | 12,000 |
| Max Payload Capacity (lbs) | 3,325 | TBD | 2,300 | 1,940 |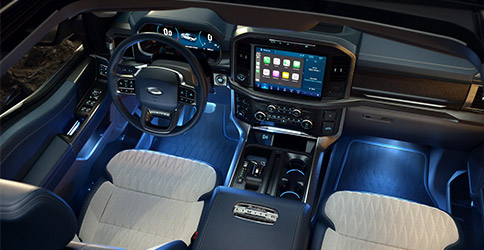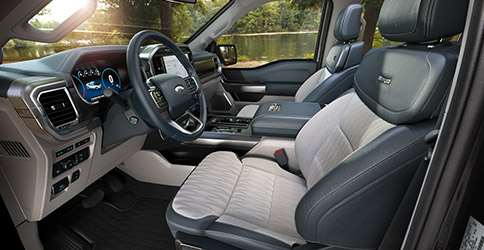 F-150 Interior Features & Technology Compared
Perhaps one of the most distinguishable aspects of the 2022 Ford F-150 is its long list of technologies and amenities. One of the most appreciated innovations is the new stowable gear shifter, which folds into the console and out of the way to create a wide, flat work surface that's perfect for a laptop or paperwork. Equally invaluable to tradespeople is the available Pro Power Onboard system, which equips your F-150 with an array of bed-mounted outlets. With up to 7.2kW of electrical output, you'll be able to power anything from blenders to welders. You won't find that kind of versatility in the competition.
| Features | 2022 Ford F-150 | 2022 Chevy Silverado | 2022 Ram 1500 | 2022 Toyota Tundra |
| --- | --- | --- | --- | --- |
| Stowable Gear Shifter | Available | N/A | N/A | N/A |
| Onboard Power Supply | Multiple outlets with up to 7.2kW output | Single 120V outlet | Single 115V outlet | 400W power inverter |
| Active Parking Assist | Available | N/A | Available | N/A |