Ford Hybrids and Electric Vehicles
Hybrids and Electric Vehicles
at Gillingham Ford
The Family of Ford Hybrid and Electric Vehicles
Ford hybrid and electric vehicles feature advanced fuel-saving technology.Whether they're operating in electric mode, gas mode or a combination of both, these vehicles optimize efficiency. And simplicity. The plug-in hybrid vehicles can be recharged in under three hours using a 240-volt outlet. When you drive a Ford hybrid or plug-in hybrid, you'll still stop at gas stations. But maybe just for coffee.
2021 Ford Mach-E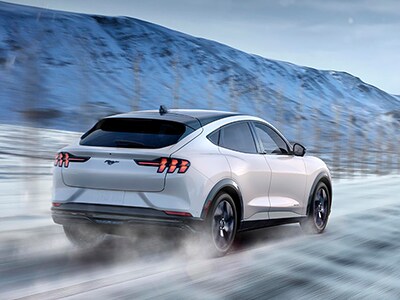 All-Electric Mustang
The time has come for an electric Mustang. Not to replace the Mustang coupe that we all love, the world's most popular sports coupe. But rather to join a family of Mustangs and give car lovers a new way to experience the thrill and freedom of driving a Mustang.
Pure torque-drenched exhilaration meets performance-inspired design. This Pony doesn't skimp on thrills*, targeting 0-60 mph in the mid-3 second range.
*Available Spring 2021
Mustang Mach-E will be available with standard and extended range battery options with either rear-wheel drive or all-wheel drive powered by permanent magnet motors. Equipped with an extended range battery and rear-wheel drive, Mach-E has a targeted EPA-estimated 300 miles of range.* And the connected navigation system also will identify up-to-date charging locations during trips and prompt owners to charge at the most convenient points on each drive - all to help ensure they don't have to be anxious about how much range they have.**
* Based on full charge. Actual range varies with conditions such as external elements, driving behaviors, vehicle maintenance, and lithium-ion battery age. Final EPA-estimated ratings available in the 2020 calendar. ** Range and charge time based on manufacturer computer engineering simulations and EPA-estimated range calculation methodology. The charging rate decreases as battery reaches full capacity. Individual results may vary based on peak charging times and battery state of charge. Actual vehicle range varies with conditions such as external elements, driving behaviors, vehicle maintenance, and lithium-ion battery age.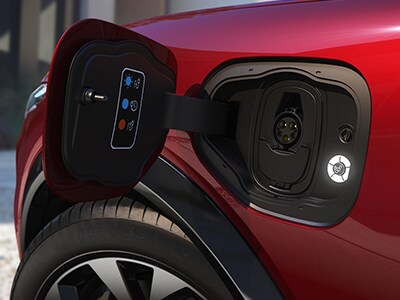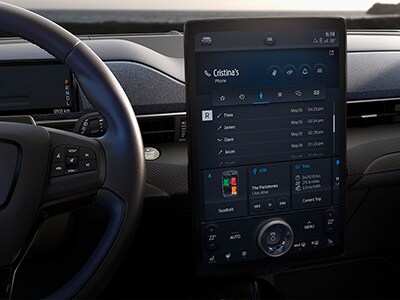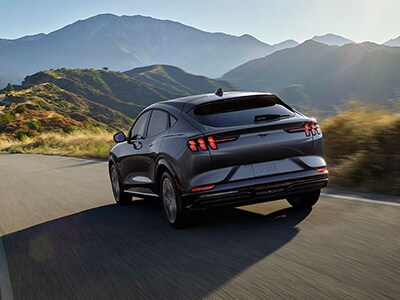 Plug-In Hybrid Electric Vehicles
Going Electric Is Easy
Plug-in hybrids offer the best of both worlds. You can drive in electric mode while having the peace of mind of a gas-engine backup when you need it. They also feature convenient plug-in charging to extend your all-electric range. Ford plug-in hybrid vehicles feature technology to help maximize driving convenience, whether you're driving in electric or hybrid mode.
2020 Ford Escape Plug-In Hybrid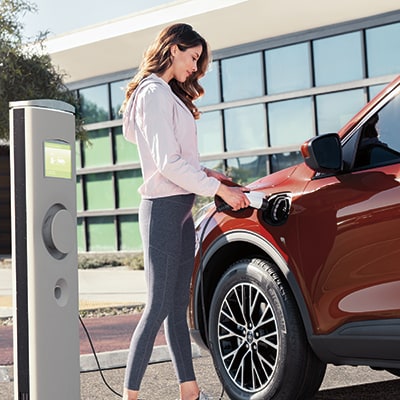 The new 2020 Escape has a choice of hybrid or plug-in hybrid with a 2.5L iVCT Atkinson-cycle hybrid engine. A 1.5L EcoBoost® and the 2.0L EcoBoost with Auto Start-Stop Technology are the available gas engines.
2020 Ford Fusion Plug-In Hybrid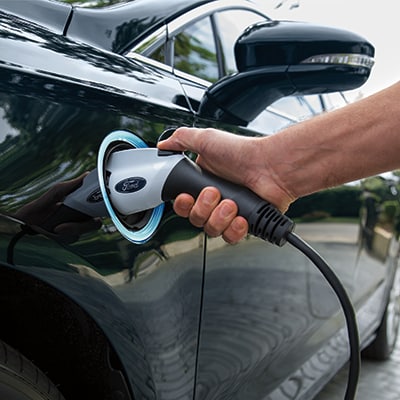 The Fusion Plug-in Hybrid Titanium has three modes that let you choose gas, electric or a combination of both. In EV Now mode, the vehicle operates mostly using plug-in power. With a full charge, the Fusion Plug-in Hybrid has an electric-only driving range of an EPA-estimated 26 miles. 
Financial Incentives
Plug-in vehicle owners may be eligilble for a U.S. federal income tax credit through the Qualified Plug-in Electric Drive Motor Credit. It can provide a maximum of $7,500 for qualifying all-electric vehicles and plug-in hybrid vehicles. Plus, many states and local utility companies may offer hybrid/electric vehicle purchasers financial rebates, tax incentives, lower charging rates, the use of HOV lanes as a single occupant and exemption from clean air emissions tests.
Hours
Monday

9am-6pm

Tuesday

9am-6pm

Wednesday

9am-6pm

Thursday

9am-6pm

Friday

9am-6pm

Saturday

9am-4pm

Sunday

Closed