Ford Oil Change
in Parma, OH
Whether you drive a rugged Ford F-150 truck or new Escape SUV, it'll require routine maintenance like oil changes to continue running at its best. At our Ford dealership in Parma, you can easily schedule an oil change appointment online for a time that's best for you and bring your vehicle into our service center. We have factory-trained technicians who can quickly drain the old dirty oil from your engine and replace it with fresh oil. Trust our certified lube technicians when you're in need of a Ford oil change for your car, truck or SUV!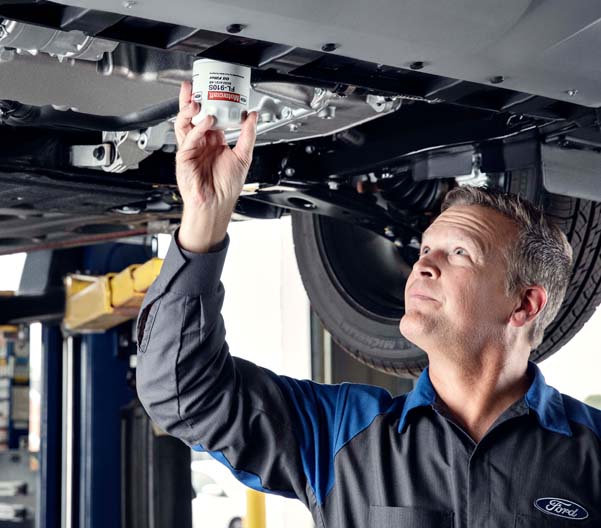 Fast Oil Change near Me
We understand time is your most valuable resource, which is why our goal is to get you in and out of our service center as efficiently as possible. You can schedule Ford oil change service online, or stop by our dealership for a drop-in appointment. We'll get your vehicle into our Ford service center quickly so that we can take care of your oil and filter change and get you back on the road. Don't drive a Ford? We perform service and repairs on all makes and models, so you can come to us confidently no matter what you drive!
Should I Get a Conventional or Synthetic Oil Change?
When comparing the benefits of conventional vs. synthetic oil, you'll want to consult your vehicle owner's manual. Some engines recommend synthetic oil, but typically conventional oil is fine to use so long as you get oil changes more frequently. Synthetic oil will last longer, allowing you to spend more time on the road before your next oil change appointment. We recommend Ford vehicles get an oil change approximately every 3,000 miles or six months, but the actual schedule will depend on your vehicle's engine and your driving habits. If you have any questions, don't hesitate to reach out to us, and be sure to ask about our Ford oil change coupons to see how you can save!
Schedule a Ford Oil Change
Schedule a Ford oil change and our team will take great care of your vehicle. At Gillingham Ford, our commitment is to ensure we take care of you long after the initial sale and help your car, truck or SUV run at its best with routine maintenance. Schedule a Ford oil change appointment and pay us a visit today!