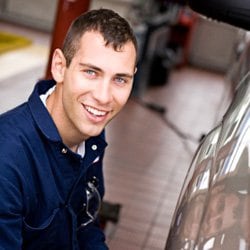 When there's a problem going on with your new Ford, it's important that you have a certified technician take a look at the issue. Unfortunately, the more mileage you accrue, the more likely you will need service of some sort. We here at Bob Gillingham want to make sure that you're getting the right parts for the job. If you notice that something isn't quite right with your Ford, let us determine what's going on. We can then recommend what parts from the manufacturer would be beneficial for the service.
Parts that come from the manufacturer of your vehicle are considered to be OEM parts. OEM stands for Original Equipment Manufacturer and means these parts come directly from Ford designed for your Ford. Ford makes all of the parts for their automobile available to our dealership, and we would be happy to provide you with these parts for whatever you have going on. We have many clients adding upgrades to their Ford, and we can provide you with parts meant with your vehicle in mind. This means that the fit will be proper, and you can rely on the quality of the parts for many more years to come.
You can reach Bob Gillingham Ford's parts department anytime during regular business hours. We always have someone on hand to answer any questions that you may have. We keep a lot of the most commonly used parts in stock, but we also have access to many other items that can be quickly ordered when you need them in a rush. Let us know if you need to schedule an appointment with our service center team as well. They can diagnose Ford issues, and they can make any necessary repairs.